The website Jackpotjoy offers the chance to win real money when you play Monopoly online for free. Monopoly SNAP! is an online bingo styled game with four different ways to win. The game has match bonuses as well as large overall jackpots that can be won in addition to the multipliers that increase your winnings. Jackpotjoy will even give you a free £20 to play Monopoly Snap! Just click the banner below to get started!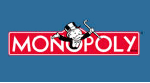 The rules of Monopoly Snap! are easy to learn and offer many different chances to win. You can buy five sets of five title deeds per each game played. The ticket prices will vary depending on how many other people are playing. Be sure to check the prices before playing. In order to purchase a hand you must click on your selection with your mouse and then click once more to confirm. The five ways to win are with a match bonus, token bonus, calling snap, and two community chest jackpots. You'll never have so much fun with free online Monopoly… ever!
The match bonus is when you hold a set of the same types of property. Depending on the set you will automatically will a bonus based on a multiplier. The token bonus is when you buy all five sets of title deeds. You are automatically given a token which Mr. Monopoly will call out at the end of the game. Any player that has a winning token take will share in the jackpot. Calling Snap! is when you win a jackpot by having cards with the letter S, N, A, P, and !. The jackpot will be shared with anyone else who also collects snap. The two community chest jackpots are won by matching all five cards in your hand. Forty percent will given to the person with the matching hand and the other sixty percent will be split between everyone else at the table. For those of you looking for the official Monopoly site, go HERE for the HasBro Monopoly page. You can also get the rules from Wikipedia on this page.
The are as many ways to win Monopoly Snap! as there are ways to have fun. Monopoly Online is a new and exciting way to play. Get out there and try it today. Just click the image below to get started with your free £20!