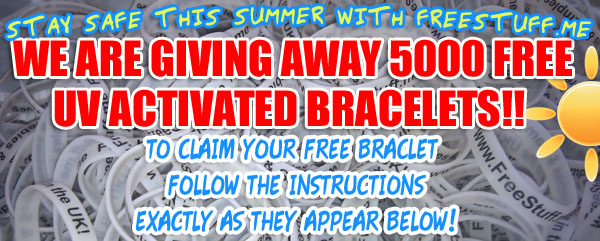 STEP 1: Like our free stuff facebook page HERE – you just have to click the

button at the top of the Facebook page (not the top of this page but you can like this too if you want!)
STEP 2: Join our mailing list below by simply entering your name and e-mail address below and hitting 'Submit' You will then need to confirm your subscription by checking your e-mail and clicking the confirm link. This is required. And don't worry, we hate SPAM too and NEVER share your e-mail address with any third parties.
Make sure you head back here once step 2 is complete to start on step 3.
STEP 3: Fill in our free UV activated bracelet form HERE – The information you fill in is checked against your Facebook name and e-mail address. Any details that do not correspond to the first 2 steps are not eligible for a free UV bracelet.
STEP 4: There is no step 4 – you're done!
Make sure you read the terms and conditions HERE. Only users which have liked the Facebook page, signed up to the mailing list and filled in the bracelet form containing the correct information are eligible for a free UV activated bracelet.